Countless lost dogs end up at animal shelters every day because their owners can't be located. A microchip can help improve the chances of a speedy reunion with your faithful friend if he gets lost. The cost of a microchip is negligible compared to the peace of mind it brings.
Microchip Overview
A microchip is to your dog what the LoJack Vehicle Recovery System would be to your car. No bigger than a grain of rice, a microchip is a radio-frequency identification implant that provides your dog with permanent ID. The microchip electronically stores information that identifies your dog and links him to whatever contact information you provide during the registration process.
How It Works
Each microchip has a unique number that, when properly registered, is linked to the contact information you provide. The microchip is injected into your dog's skin somewhere between the shoulders and remains dormant until activated by a special scanner that reads the chip number. If your dog gets lost and winds up a veterinary office or animal shelter that scans for microchips, the information you provided will be retrieved and you will be contacted to reclaim your furry friend.
Microchip Cost
The cost of a microchip for your dog is relatively affordable. Most animal shelters and some pet shops include microchip services at no additional cost beyond the regular adoption or purchase fee. Depending on the type of microchip and whether your dog gets the procedure at a veterinary office, a microchipping clinic or a participating pet supply store, the one-time fee generally ranges from $25 to $50.
Microchip Registration Cost
There are often additional charges beyond the microchip itself. While the registration fee is sometimes included in the cost of a microchip, most of the time you will need to pay a separate charge to register and store your contact information with a pet recovery database. The cost for registering a microchip also varies but usually falls below $20 and is generally valid for the lifetime of your dog. For best results and optimal protection for your pooch, register your dog's microchip with a well-known, national pet recovery database like HomeAgain or PetLink.
Notify the national pet recovery database of any changes to your contact information. It will be tough for anyone to contact you about your lost dog if you've moved or changed phone numbers but forgot to update that information. The contact information linked to your dog's microchip needs to be kept current for the chip to serve its purpose.
This article was co-authored by Ray Spragley, DVM. Dr. Ray Spragley is a Doctor of Veterinary Medicine and the Owner/Founder of Zen Dog Veterinary Care PLLC in New York. With experience in multiple institutions and private practices, Dr. Spragley's specializations and interests include non-surgical management of cranial cruciate ligament tears, Intervertebral Disk Disease(IVDD), and pain management in osteoarthritis. Dr. Spragley holds a BS in Biology from SUNY Albany and has a Doctor of Veterinary Medicine degree (DVM) from Ross University School of Veterinary Medicine. He is also a Certified Canine Rehabilitation Therapist (CCRT) through the Canine Rehab Institute as well as a Certified Veterinary Acupuncturist (CVA) through Chi University.
This article has been viewed 149,709 times.
Microchips placed in dogs are small passive radio emitters about the size of a grain of rice that are injected under the skin above the shoulder blades. Each microchip has a unique number, and that number is registered on an official central database along with a description of that dog, the owner's name, address, and contact phone numbers. [1] X Research source [2] X Expert Source
Ray Spragley, DVM
Veterinarian Expert Interview. 29 June 2021. When a scanner is passed over the microchip, that unique number is picked up and displayed on the scanner. Knowing if a dog has a microchip is especially helpful if you find a stray dog and need to trace the owner. [3] X Research source
Look Up the Chip If a microchip is detected by the scanner, it will reveal the microchip's unique number. You then need to check the microchip at petmicrochiplookup.org. This tool will tell you which organization your chip is registered with.
Where does the microchip go in a dog?
The needle containing the microchip is loaded into the application gun or syringe, and your dog is positioned for the injection. For dogs, the standard site for microchip placement is in the subcutaneous tissue along the dorsal midline (the spine) between the dog's shoulder blades.
Can I scan my dogs chip?
The only thing you need is your Smartphone and of course the dogtap. The reason why there are different ways to scan the dogtap is quite simple. This means that a potential finder does not have to go to the vet to have a dog's chip read out with a special reader, but can simply use his own smartphone.
Is it worth it to microchip your dog?
Unlike a collar, which can easily break, fall off, or be removed, a microchip is a reliable way to get your contact information—as well as vital information about your dog's medical conditions—and increase the odds he'll be returned to you if he's found. Read tips on what to do if your pet goes missing here.
Do vets automatically check for microchips?
Shelters typically scan for chips, but generally a veterinarian is not required to scan for a chip when a client brings in a dog. A veterinarian's primary obligation is to provide healthcare and treatment to a client's dog.
How much does it cost to microchip a dog at Petsmart?
"I think microchipping is good, but they just need to be aware they have the correct chip in their animal." Banfield has some 350 hospitals, mainly in Petsmart around the country. They implant chips in pets at a cost of about $30 each.
Do vets charge to scan for a chip?
If you find a lost or stray cat, the first thing to do is to take the cat to a vet or any Petsmart with a Banfield inside to have it scanned for a microchip (they will do this free of charge). This is usually a rescue, vet's office, or animal control facility that may have the owner's information.
Did you find a dog and need to know if it has a microchip? There are many ways that you can find a microchip in dogs. If this dog does have a microchip, it will be very easy to return it to its owner. 
Sometimes it can be very hard to find where they are located in a dog. These are a few ways that you can find where the microchip is located and how to get this lost dog back to its owner.
What is a Microchip?
A microchip is a small implant that is located under your dog's skin that is an identifying integrated circuit. 
This chip uses passive radio-frequency identification technology known as a PIT tag. This tag has a unique number that can be picked up by a microchip scanner so that if your dog is lost, they can be returned to their owner.
What is the purpose of a microchip? Once your dog has been implanted with a microchip, you are given information on the number and how to register the chip with your contact information.
 If your dog is ever lost, the person who finds your dog can bring them to a shelter, vet clinic, or animal control officer to scan the dog. 
They can enter the number into AAHA Universal Pet Microchip Lookup Tool to figure out who the chip is registered to and get your pet back to you.
How to Tell if a Dog is Microchipped
When a microchip is implanted in a dog, it is placed in between the shoulder blades. Many times, this is done when the dog is a puppy. As your dog grows, these chips can migrate to different areas of the body. They commonly move down the front legs or up and down the back.
Microchips can therefore move around in dogs as they grow. These small chips have been found in many different locations on a dog's body even though they were implanted in between the shoulders. 
There are a few ways that you can locate the microchip in your dog; these are some of the most common ways:
You Can Feel the Chip
If a dog is at a healthy weight, you can commonly feel the microchip under the skin. It will feel like a large grain of rice. If your dog is heavily muscled or fatter, this can be very hard to feel. 
With some dogs that are very fit, you can still have a hard time finding the chip by just feeling. This is not a good reliable way to tell if your dog has a microchip or not.
Use a Microchip Scanner
If you cannot manually feel a chip in a dog, it would be best to use a microchip scanner to find the chip. This would also tell you the microchip number so you could look up the owner if they were lost.
The use of microchips to identify lost dogs and their owners has become increasingly popular. If you find a stray or abandoned dog and would like to locate his owner, start by checking to see if he has a microchip.
Identify the Presence of a Microchip
Step 1
Use a stud finder. As crazy as it might sound, experiments have proven that common household stud finders do identify the presence of a microchip underneath a dog's skin. While a stud finder cannot interpret the information linked to a dog's microchip, it can alert you to the presence of a chip.
Step 2
Call a local veterinary office, rescue group or animal shelter and ask if it has a universal microchip scanner. Not all microchip scanners are created equally. Some scanners will identify only certain brands of microchips, whereas universal scanners are able to recognize microchips from multiple manufacturers.
Step 3
Take the dog to be scanned for a microchip. Once you have identified a local animal shelter or humane organization that uses a universal scanner, take the dog to that location and have him scanned for the presence of a microchip.
Always check with your veterinarian before changing your pet's diet, medication, or physical activity routines. This information is not a substitute for a vet's opinion.
More Articles
How do I Get Cat Urine Out of Sub Flooring? →
Make Service Dog Vests →
Contact Rescue Organizations for German Shepherds →
Humane Society: High Technology: Identifying Lost Pets with Microchips
Paws in Training: Dog Microchips: Pros & Cons
Daily Dog Scoop: Microchips & Tools
If the dog was scanned using a non-universal scanner, take him to another veterinary office or shelter to be scanned again with a different scanner.
Kristina Barroso is a full-time teacher who has been freelance writing since 1991. She published her first book, a break-up survival guide, in 2007 and specializes in a variety of topics including, but not limited to, relationships and issues in education. She earned a Bachelor of Arts in Psychology from Florida International University.
Surely, many pet owners here have already had their dogs and cats microchipped, with it being such a huge benefit in many ways! While collars and tags are helpful, a microchip helps you locate your dog and ensure that they have information in case any of their physical tags get lost. It's helped many owners find their lost dogs that way!
So if you stumble across a dog who looks lost, one of the first things to do is to check if they have a microchip. But how would you know if they are? I'll be showing you the steps to take on how to tell if a dog has a chip implanted!
Table of Contents
How to Tell If a Dog Has a Chip Implanted
A lot of us have met many stray dogs, many of them who may be lost and finding their way home. While it's easy to locate the owner through a collar or tags with the owner's contact information, they most likely may have lost it or don't wear one. Fortunately, microchipping became a solution to ensure that the dog's location and owner information would be easy to access.
However, you can't immediately tell if a dog is microchipped, so here are the five steps to follow:
1. Take Him to the Local Shelter or Rescue Group
The first thing to do is to find your local shelter or contact an animal rescue group who can help you out. You can ask them to scan the dog is they have an implanted microchip ID, helping you track down the owner information to let them know you have their dog.
Plus, if the owner is aware that their dog went missing, they will most likely head on to the local shelter immediately to find their pet. Ask staff if they have had any missing dog reports to help find the rightful dow owner immediately.
2. Call the Local Veterinarian
Veterinarian checking microchip implant on Maltese dog in vet clinic.
If you're not comfortable in visiting the local shelter (some shelters may be unclean or poorly managed), then head on to the local veterinarian, who is also able to check if the dog is microchipped. They will scan the animal and check for information to contact the owner.
Or hopefully, the local vet is familiar with the dog and their owner, so they can check through their contact list for an even faster procedure. If ever you do find out that the missing dog isn't microchipped, then it's best to follow the next steps ahead.
3. File a Report and Post About the Missing Dog
If the dog shelter is poorly managed, don't worry about leaving him there as you can keep the dog until his owners contact you. Make sure that you file a found dog report in the dog shelter and let the local vet know about it in case any dog owners contact them to find their pet.
You can also take action yourself by taking a photo of the dog and leaving details on both dog and your contact information. Post as much as you can, may it be fliers around the neighborhood and even online in local community groups.
4. If You Need to Take Him Home First
If ever you do take the dog home for temporary shelter, you need to prepare beforehand, especially when you have pets of your own. Check for any fleas or sicknesses that may affect the household. Also, if the dog or your pets aren't fully vaccinated, then it's best to keep the distance to ensure both dog and pets don't get sick.
Besides that, wash your hands after handling the dog, clean his waste immediately, and be wary while caring for the dog, as he may feel aggressive or scared. Protecting yourself and the household is your top priority, but also make sure that the dog is comfortable.
5. Using a Stud Finder?
While this may seem like an odd way to tell if a dog has a chip implanted, several experiments show that a stud finder helps. It can identify microchip presence under the dog's skin. However, it can't show you the information inside that chip, so you'll need to contact the vet or shelter once you find out that the lost dog is indeed microchipped.
If you're interested to learn more about microchip implantation, here's a short video guide to help you out:
Wrapping It Up
When you first spot a friendly, lost dog, it's best to take responsibility to lead them back to their homes. Hopefully, they do have a chip implanted which helps you contact their owner to take them back home. If you have a dog, you might want to consider microchipping them as well to prevent serious cases, too!
I hope that this article on how to tell if a dog has a chip implanted helps you. So now you know what to do just in case you find a dog who needs help!
This page may contain affiliate links. We earn a commission for qualifying purchases – at no cost to you. Our mission is to help save dogs' and cats' lives through our educational content. To help us create more veterinarian- and trainer-approved content, please consider buying one of our web-books for yourself or as a gift.
Microchips Reunite Families – But They Need Your Help
You've taken the important step of having your pets microchipped, or they came already "chipped" from your local shelter. awesome!
But did you ever register their microchip? And do you know if your registration contact information is up-to-date in the registry?
Having your pets (including indoor-only cats) microchipped is a super important first step in increasing your chances that you'll be reunited with them should they run away, get lost, be stolen, or otherwise disappear in the blink of an eye from your life. Ever mistakenly leave a door open?
While having the microchip implanted is a super important step, it's not the only one. It's equally as important that you (1) register your contact information in one (or multiple) of the pet microchip registries listed below, and (2) check regularly to ensure that your contact information is always up-to-date in case the worst happens.
So, if you never registered your pet's microchip or if you're unsure if you did or whether or not your contact information is up-to-date, please read on. Your pet's safety, as well as your peace of mind depends on it. As do your local shelters and animal control! After all, properly registered and microchipped pets make their lives SOOOOOO much easier and help to keep the shelters less full.
How to Check and Update Your Pet's Microchip Information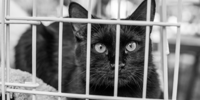 Checking & updating your contact info for your pet's registered microchip is a simple 3-step process (as outlined below). You'll want to bookmark this page in case you ever move or change your email address or phone number, as these are all situations where you'll want to update your contact information associated with your pet's microchip in the registry.
You'll also want to refer to this info and check your contact info should your pet ever go missing, as we discuss in our Tips For Finding Lost Pets article.
Again, the importance of regularly checking and updating your pet's microchip registry information cannot be overstated. A great many microchipped pets wind up in shelters and never make it back home to be reunited with their people after getting lost solely because nobody can track down and get in touch with the owners due to unregistered or out-of-date contact information!
So, without further ado, here are the three steps for checking and updating your contact information with your pet's microchip registry.
Step 1: Get Your Pet's Microchip NUMBER
Don't have their microchip number handy? Call your vet's office, they may well have it in their records OR bring your pet into your vet's office, animal shelter, or animal control to have them scanned (there shouldn't be any charge for this). And hopefully, they're using a "universal scanner," as not all microchips work on the same frequency.
Step 2: Ge Your Pet's Microchip TYPE/BRAND
Can't recall the type/brand? Lost the original paperwork? You can call your vet's office or the shelter/rescue where you adopted your pet, they may well have it in their records. But it's even easier and faster to look up your pet's microchip number on the AAHA Universal Pet Microchip Lookup site — you plug in the number, and the site will tell you if and with which registry the chip is registered (example below) when it was last updated and provide the necessary information about how to get in touch to check and update your contact information.

Step 3: Check & Update Your Contact Information With The Registry
Now that you have your pet's microchip number and the name and contact info of the registry, call them or go onto their website to update your contact info.
And there you have it, three quick and easy steps to help ensure that your pets can find their way home should they ever wander off. I hope you never have the need to rely on a microchip. But if you do, you'll be glad that it's there and that your contact information is registered and up-to-date! And, should you ever lose a pet, here's some info and tips that will help you get them home safe.
Pet's Microchip Not Yet Registered?
Registering your pet's microchip isn't just important, it's also quick and easy. All you need is their microchip number and an internet-connected phone or computer (or a pen)!
Don't know your pet's microchip number? See "Step 1" in the "Checking & Updating Microchip Info" section above. Now is the best time to register your pet's microchip. Below is a list of several of the pet microchip registries and programs for you to choose from. To be safest, we recommend that you register your pet's microchip both with the manufacturer's registry and with the Found Animals registry.
This registry is "universal" & completely free and is part of the Found Animal Foundation, a non-profit working hard to help more pets stay in their homes. You can learn more about the great people and the rest of the work of the Found Animals Foundation here.
Note that some registries are "universal" (can register any brand of microchip), while others are limited only to their brand of microchip.

Also, some registries charge both to register and do updates or transfers, while others charge for some of these steps but not all, and some are completely free.
Are your pets' microchips registered? Where did you register? Have you ever had to use your pet's microchip? Feel free to share your pet microchip and ID-related stories and advice in the comments section below.
Having a cat or dog is like having another family member. Unlike a family member, however, our pets regularly instinct to wander or run off and get lost. And when they get lost, they can not let anyone know who they are or where they came from. There are some helpful steps you can take, such as microchipping your pets. A microchip can be used to permanently link information about your pet and you (his owner) to him so that people who have lost your pet can find out who he is. Then they can return him home safely if they know how to read a microchip.If you want to find out if you should have your pet microchipped, read on. You'll learn more about what a microchip is, how to put it in your pet, and the benefits it has for your pet.
What Is A Microchip?
A microchip is a small electronic chip enclosed in a glass cylinder. This chip emits a radio wave. The radio wave can be scanned, and the chip is tagged with an ID number. There are pet recovery databases where you can register your pet's ID number. They also record your contact information in conjunction with this ID number. If your pet is lost and someone finds it, they can take it to a vet or shelter, have it scanned, and then determine that the pet has escaped you. This is a safe and reliable way to recover lost pets if they ever run away from home. According to the American Veterinary Medical Association (AVMA), high-tech microchips are often used by experts in zoos or animal studies. These microchips can detect things like body temperature.
How Does Microchipping A Pet Work? Is It Painful?
According to the experts at the AVMA, microchip implantation is almost entirely painless for your pet. It's as routine and straightforward as vaccinating your pet during a regular vet visit. Your veterinarian simply injects the microchip into the loose skin near your pet's shoulder with a hypodermic needle. The procedure does not require surgery or anaesthesia. However, some pet owners choose to chip their pet during other medical procedures that require anaesthesia, so the chip is inserted while the pet is asleep.This often happens during a spay or neuter or when your pet is asleep to have his teeth brushed at the vet's office. A microchip can stay in your pet for a long time, and unless your pet lives longer than an average pet's life, it will remain for its entire life. Experts at Humane Society say that most microchips are designed to work in your pet for about 25 years.
How Do You Register Your Pet's Microchip in Malaysia?
While most veterinarians in Malaysia are licensed to vaccinate and microchip your pets, the cost of microchipping isn't standardized and varies from RM20 to RM30.
Are Microchips Safe For Pets?
There are some risks associated with microchipping your pet. While these complications are extremely rare, you should be aware of them. The microchip can be implanted incorrectly. Studies have been done to determine if cancerous tumours that developed near the pets' implantation sites caused the microchip, but the results are inconclusive. The American Veterinary Medical Association states, "The risk of your pet developing cancer because of his microchip is very, very small and is far outweighed by the improved likelihood of getting your pet back if he is lost."
What Are The Benefits Of Microchipping Your Pets?
If you are wondering, should I microchip my pet? It is worth considering all the benefits of microchipping. Here are some of the benefits this technology can bring to your pet.1. Find Your Lost PetThis is the main benefit of microchipping your pet. If someone finds your pet and knows about microchipping, they will most likely take your pet to a vet or shelter to have the microchip scanned. They may then contact you to let you know they have found your pup. Please note: A microchip is not a tracking device, meaning a person must bring your pet in to be scanned if they want to find out who you are. You cannot use GPS to find out where your microchipped pet is.2. Prove A Stolen Pet Is YoursThis is less likely than a runaway, but if your pet is stolen and you discover it or suspect the person who stole it, you can use the microchip to prove that it is your pet.Microchipping is a simple, painless and effective way to ensure your pet can be identified once away from home. Talk to your veterinarian today about your options.
Register Petotum Pet ID
Our Pet ID is FREE & each pet has its own pet profile with QR code. You can print their QR and put it on their tag. Register NOW